Oil from spent coffee grounds for soap
Placed on 13-7-2021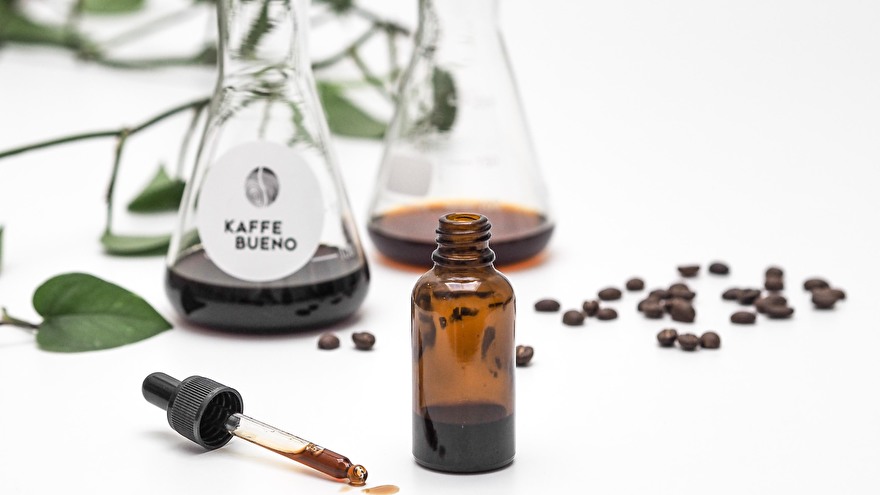 Oil from spent coffee for soap? We discovered this wonderful product in our search for circular fats. We discovered that the characteristics of coffee oil in soap can be compared to shea butter, even though the composition is very different. It contributes to hardness of the soap ánd nourishes the skin. So it would be fantastic to replace African shea butter in our soaps with circular oil from European coffee grounds! In the meantime, we have received samples from Kaffe Bueno in Denmark and conducted a first round of tests.
In the past years, Kusala has been approached by many entrepreneurs who wanted to do "something circular" with coffee waste streams (used or unused coffee grounds that would end up in the trash). They would often think, coffee scrub soap! Now, Kusala has already developed one circular coffee scrub soap in which we processed as much coffee as possible for a true coffee experience. However, as we mentioned before, if you really want to make impact and maximize the percentage circular in soap, you will need to find circular fats. This is why oil from used coffee grounds suddenly offers many more possibilities than the usual scrub soap since you could use it in the entire assortment. At least, that's what we imagined...
We discovered that several start-ups in Europe are very busy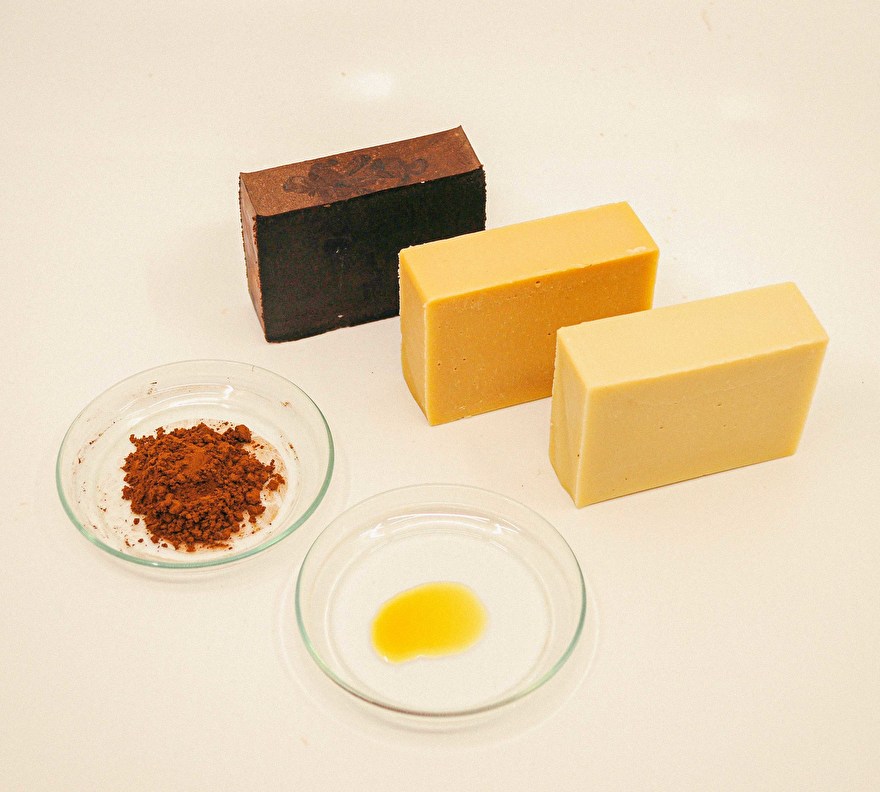 developing valuable products from spent coffee grounds to use this waste stream as efficiently as possible so that the use of primary resources can be reduced. And one of thise products is coffee oil for the cosmetic industry. We came into contact with Kaffe Bueno from Denmark who already made a lot of progress in putting this product on the market. They sent us samples of their coffee oil which we immediately used for a first set of tests. In the picture you can see a comparison between coffee oil as 10% and 20% of the fats in the soap, and a test with Kaffibre as scrub, the product that is the remnant after extraction of the oil. Kaffibre is also a beautiful and interesting product and a wonderful scrub, but since we already use a waste stream of unused coffee as scrub, we are not really looking for a replacement and won't pursue Kaffibre for now.
Most of all, it was very interesting to see how a liquid oil can contribute to the hardness of the soap. Many soap makers use shea butter or cocoa butter as a more sustainable replacement for palm oil, but those ingredients also have to come from far and their use still contributes to CO2 emission through transport kilometers. By using a local waste stream like spent coffee grounds, you could make a huge strike to improve the sustainability of a piece of soap! And on top of that, we were happily surprised by the soft rich lather from the soaps made with coffee oil that feels wonderful on the skin. Unfortunately, it was a setback that the coffee oil had quite a strong scent and color which also affected the soap. This would mean that the scents in all Kusala soaps could be affected with a strong undertone, not quite a desirable consequence. In addition, the price of coffee oil was much higher than that of shea butter... So we decided we would continue our research to determine whether we could still use coffee oil as 5% of the fats, which would have our preference since we consider this to be such a beautiful product, or else if it would be better to develop one or two special coffee oil soaps instead.
So the following tests are mainly developed to allow for a decision between these two options. And in the meantime we have started to examine whether mango butter could completemnt coffee oil as another suitable sustainable and possibly circular replacement for shea butter. Stay tuned!
Winkelwagen
Geen artikelen in winkelwagen.
Verzending
Nederland
Brievenbuspakje €3,95
Pakket €5,95
Gratis vanaf €50,-
België
Pakket €8,95
Gratis vanaf €75,-